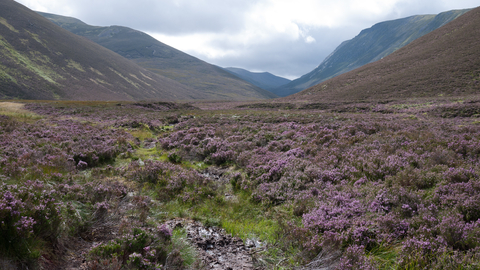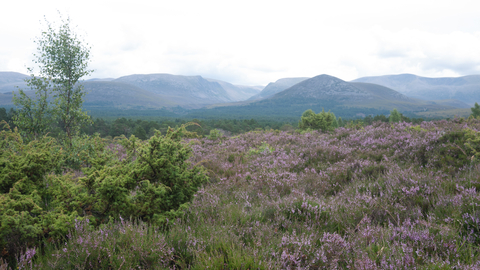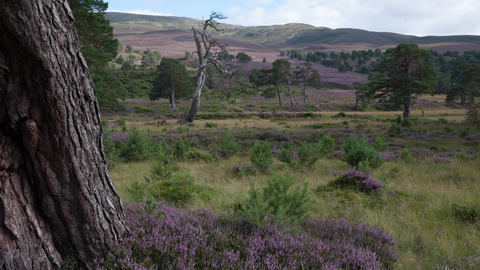 One of our most extensive habitats, moorlands cover huge areas in the uplands. Great expanses of unenclosed, wild-seeming land impart a sense of freedom and adventure, although the wide, open vistas also leave you at the mercy of the elements. Dominated by heather that turns the bleak winter landscape into a patchwork of rich purples by late summer, most moorlands are managed as part of agricultural holdings or shooting estates.
What is it?
Moorland generally refers to open upland landscapes dominated by heather and maintained through human management. It is found above the limit of enclosed agricultural land and below the theoretical climatic tree line at about 600m (the tree line is, however, largely absent in the UK, with woodland having been replaced by moorland at this altitude). Above this altitude, it is replaced by montane heath, a natural habitat maintained through exposure rather than human intervention. In the harsh climate of northern Scotland, it can be found down to sea level. The term moorland can be used to include blanket bog and upland acid grassland, but here we use the term to refer to heathland dry enough to walk over.
Dwarf-shrub species such as heathers, bilberry, cowberry and crowberry characterise moorland, but there is variation according to climate, soils, drainage and management. Western gorse is very common on the moors of south-west England, while the much rarer juniper is found in the Highlands. In the moist west, bell heather is frequent, while bilberry gives way to bearberry on the more boreal heaths of north-east of Scotland. Wetter areas are generally less heathery in appearance and can be picked out at a distance by the greener hues of purple moor-grass, deer grass and heath rush, sometimes spiked with bog asphodel and common cottongrass. On slightly richer soils, additional species may be found, including lesser twayblade, mountain everlasting, chickweed wintergreen and intermediate wintergreen.
Why is it like this?
Moorland is found on shallow peat or mineral soils on slopes that are well-drained but kept moist by rain and mist. On flatter, poorly drained ground, the heathland gives way to blanket bog, which develops where continual waterlogging allows peat to form (and is typically characterised by bog-mosses and a mixture of heather and hare's-tail cottongrass).
Moorland is generally used for hill farming, with extensive areas also managed for game shooting. Both may include burning, which promotes the growth of young, fresh heather shoots for livestock and red grouse. Without some degree of grazing and/or burning, moorland would in most cases eventually revert to woodland - although the distance to potential seed sources would make this a slow process in many places. However, where grazing and/or burning are too intensive or frequent, heather is lost and moorland is converted to swards of mat grass (on mineral soils), heath rush (on shallow peats), or cotton grass (on blanket bog). As a result, many of our uplands now consist of rather uninteresting species-poor rush and grass dominated habitats. In the Southern Uplands of Scotland, the Pennines and the North York Moors in particular, the impact of game management is easily seen in the landscape as a patchwork of differently aged heather resulting from managed burns. Air pollution, including the impact of historic heavy industry emissions, is a problem in some areas (such as the Pennines) and may be contributing to the lack of diversity resulting from overgrazing and regular burning. 
Distribution in the UK
There is more heather moorland in the Isles of Britain and Ireland than anywhere else in the world. It is widespread across the uplands of Northern Ireland, northern England, Scotland. and south-west England.  Estimates vary, but this is an extensive habitat of one or more million hectares.
What to look for
The bleak, windswept landscape of moorland can seem quite sparsely populated with wildlife. However, the cheery song of skylarks is ubiquitous, as is that of the meadow pipit, although the haunting cries of waders such as golden plover, curlew and lapwing are heard less often than in the past. Look for ring ouzel around rocky crags and gullies, red grouse in open heather and flocks of twite on moorland fringes. Merlin, hen harrier and short-eared owl may also be seen, although birds of prey are still illegally persecuted around some shooting estates. Easily identified in winter by its white coat, mountain hare is a native of moorland in the Highlands (and was introduced to the Peak District).  
Look for "waved heath" near the coast, where exposure to strong, salt laden winds results in a distinctively sculptured sward. On shady north or east facing slopes in the north-west of Scotland, look out for mats of deeply coloured bog-mosses and tiny filmy ferns. Known as the northern hepatic mat, this community can include rare liverworts.
The invertebrate fauna of moorland tends to reflect its structural diversity, and can be quite rich. Look out for the Scotch argus butterfly and the black darter dragonfly around the edges of bogs on moorland in Scotland.
Conservation
The rise of sheep ranching, management for game, agricultural "improvement" and afforestation have led to the loss and deterioration of moorland. Although a large amount remains, much is impoverished through heavy grazing and burning. However, moorland is greatly valued for its wild landscapes and recreational opportunities and, unlike lowland heathland, remains an integral part of local economies. The role of moorland in carbon storage and water catchments and its potential for rewilding (allowing the land to become more 'self-willed' and less managed) play an increasing role in discussions over the future of our uplands.