Adopt a Gannet Packages
Alderney's Northern Gannetries are the 2nd most southerly colonies in the world and support around 1% of the species' global population. With many development sites proposed within the English Channel such as wind and tidal energy, it is more important than ever for us to understand the foraging habits of these magnificent birds.
To do this the AWT is raising money to purchase tracking tags and support our research work on the gannet colonies. The tags help uncover more information on the birds' lifecycle and their migration, feeding and foraging habits. They may also highlight the potential impacts that marine developments could have, and help us to understand the impacts of fisheries practices and marine pollution incidents.
Gannets often fly over several hundred kilometres in a single foraging trip, with the longest trips an exhausting 800km. GPS tags make it possible to get a much broader picture of how these birds use the waters of the Channel Islands, UK and France to survive.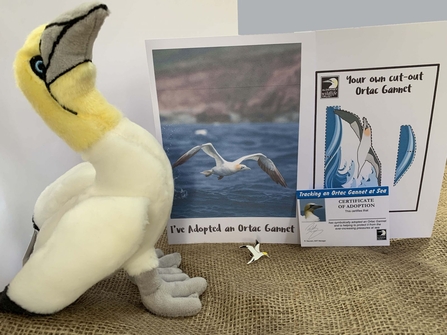 Bronze Package
£16  (includes UK postage) you will receive: 
an adoption card and a fun facts greeting card as a thank you
gannet pin badge
Silver Package 
£39  (includes UK postage) you will receive: 
an adoption card and a fun facts greeting card as a thank you
gannet pin badge
cuddly toy gannet
Gold Package 
£409 (includes UK postage) you will receive:
adoption gift pack as above as a thank you
sponsorship of one geolocator
the chance to name your Gannet which the geolocator you sponsored will be fitted to
an a5 print of a Northern Gannet illustration by artist Adam Pryce