At the AWT, we believe in working with the public, from community groups to schools, and are always keen to involve people in our projects. Through our work we hope to be able to inspire and educate people about the natural environment on our fascinating island. Our educational work is delivered all year round by our enthusiastic and dedicated team.
Working in Schools
Our team regularly visit the island's school and playgroup to provide assemblies and lessons on a whole range of subjects from seabirds to woodlands. We also work with teachers to deliver outdoor educational activities, such as discovering the secrets of our seashore or planting trees in the Alderney Community Woodland. Children's groups were heavily involved in the Alderney Community Woodland, with a schools competition being run to design the Children's Area of Milly's Wood.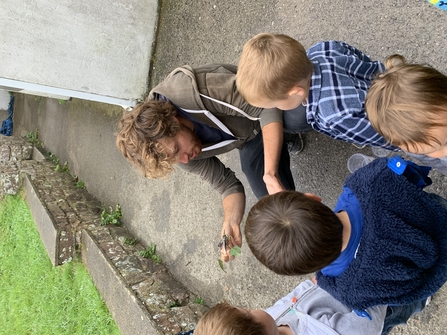 Educational Visits
If you're an educational group coming to Alderney then there are a range of different activities you can take part in. We can cater from school groups to University students and can organise a range of activities from countryside tours to bunker digs and practical conservation projects. We also host MSc student projects every year, please get in touch if you have an idea for a project.
Contact us to see what activities we can offer to your group.