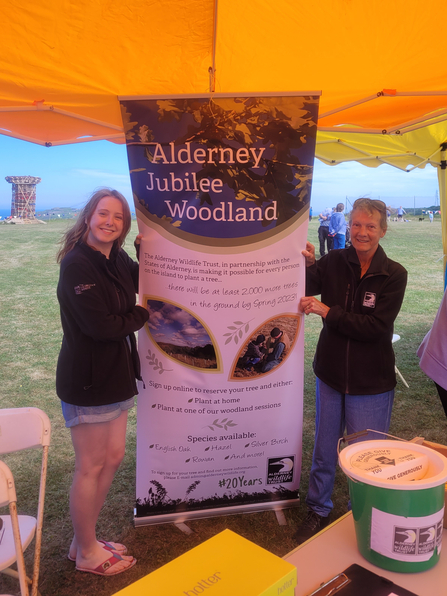 In honour of the late Queen's Platinum Jubilee and working with the States of Alderney, this year the Alderney Wildlife Trust were able to provide every resident of our wonderful island with a free tree! Last summer, from a variety of native species, residents could choose which tree they would like to either plant at home or in the Alderney Community Woodland. You may remember seeing us signing people up at the Jubilee Party on the Butes in June and at Calvacade Day during Alderney Week.
There were sixteen native species to choose from, including Holly, Silver Birch, Hazel and Field Maple. The most popular choice from the public was most likely the mighty English Oak and we can't blame you – it's the most biodiverse species of tree and a single oak can support over 2,000 species (200 of which are hard to find on any other tree species)! I chose to plant my namesake: the Rowan Tree, which attracts birds (such as Thrushes and Redwings) with its ruby red berries and pollinators with the cream flowers. While our Ramsar Officer Alex chose a Crab Apple tree as he wanted to plant a fruit-bearing tree, an important food source for birds and also small mammals.
On the 10th of November, the Jubilee Trees finally arrived and in the weeks that followed our Wildlife Information Centre was visited by numerous members of the public coming in to collect their trees for home planting. With the amazing help of the community, we got busy planting the rest in the Alderney Community Woodland (ACW).