Adopt a puffin
Alderney's puffins live on Burhou, the 2nd most southerly colony in the world. There are around 100 pairs at home there, the biggest population in the Channel Islands.
The AWT monitors the puffins on Burhou using Puffin Cam and surveys from our boat. We count the number of birds rafting on the water to give us an idea about population and also use the cameras to observe fish being brought back to burrows. At the end of the season, once the puffins have left, our ecologists check burrows for evidence of nesting to get an estimate for productivity, or how many chicks were produced, that year. 
To help protect puffins we created a 'puffin friendly zone' with the States of Alderney, ensuring the birds aren't disturbed in the bay they rest in and asking boat users to reduce speed and noise nearby to improve the conditions for puffins. On mainland Alderney we are monitoring rat presence on the cliffs and stacks, and leaving bait where rat populations are found. This will help seabird populations, and even one day possibly encourage the puffins to breed back on Alderney after many years' absence. 
By adopting a Burhou puffin you are helping the AWT carry out all these activities and ensuring the conservation of puffins in the Channel Islands for the future.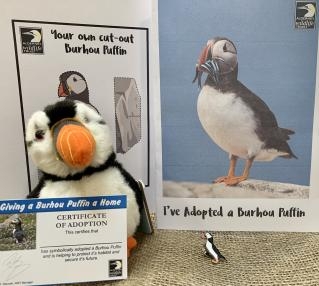 What's in the pack?
Adopt a Puffin Package £25 (includes UK postage) you will receive:
an adoption card and a fun facts greeting card
a puffin pin badge 
a cuddly puffin 
a cut-out Burhou puffin for your desk