If you wish to get involved with the practical side of conservation in Alderney, the best way to do so is by joining the regular Conservation Volunteers. Meeting every Wednesday and Saturday at 2PM, our Conservation Volunteers allow us to complete essential work that we would simply not be able to manage with our staff alone.
Past projects that have been made possible thanks to the assistance of Conservation Volunteers include planting in the Community Woodland and the management of Alderney's Grazing Animal Project. The control of invasive species, footpath maintenance, beach cleans, and much more, are included in the typical volunteering experience for our Conservation Volunteers. And after an afternoon's hard work, our volunteers gather in the pub for a well-earned chance to relax and socialise.
 If you are interested in joining our volunteers, please email our Conservation Officer or contact us.
Email our conservation officer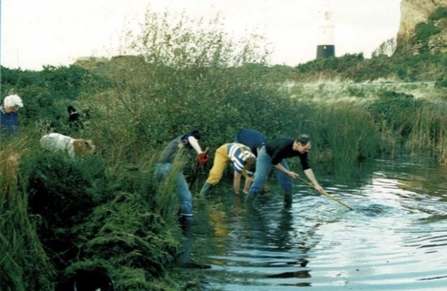 Increasing your involvement with the Conservation Volunteers
You may wish to take your conservation volunteering further and get involved in a number of ways:
Adopting a site - certain volunteers may decide that they would rather fit volunteering to suit their own timetable and therefore have opted to adopt a site.  This might be something as simple as keeping a check on an area of footpath or it could be a larger site such part of our reserves.  By adopting a site the volunteer gains a degree of ownership over their work and takes an active part in the long-term management of the site.
Equipment management - since its formation the AWT has had a number of volunteers who have worked with the larger equipment used to maintain sites.  Once they have received training (if required), these volunteers can opt to provide a certain amount of time on a regular basis. This could include working with equipment such as the tractor or the boat, helping to maintain this equipment and take an active part in the conservation work programme.