Wildlife to look for in Winter
Some might think of Winter on Alderney as being a little bleak, but it can be captivating. The landscapes can be stunning, without foliage on the coast and with some of our seabirds just starting to return. The AWT run plenty of events at this time of year from Boxing Day Walks to World Wetlands Day celebrations and the Big Channel Islands Beach Clean. Check our events page of events in Winter.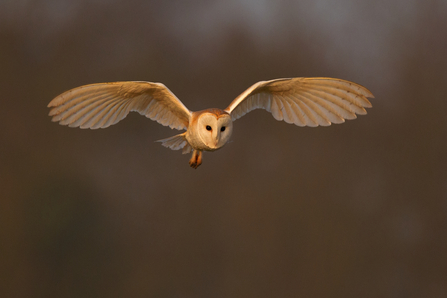 December
Take an early evening stroll and the sight of a Barn owl, Buzzard or local Peregrine hunting on the wing. Their prey can be more visible as the vegetation dies back. Fulmars return to the island, unsettled they may rest on the cliffs for days and leave for twice as long, only properly stopping when they lay their eggs in spring. 
Bloxworth snout and herald moths in the forts, caves and bunkers, a good indicator that bats may also be over-wintering there. 
Winter storms are an important part of the cycle of the material growing under the waves, much of it being swept from the rocks and strewn across the strandline from the enormous energy the ocean musters, especially impressive at this time of year. There is still the possibility of seeing seals and their pups.
Holly berries are one of the few splashes of colour and ivy continues to provide winter nectar.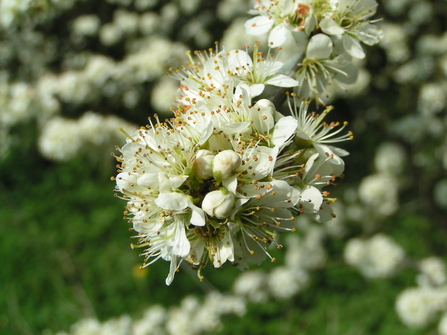 January
January and the new year mean seeing the gradual increase in daylight time and the first vestigial signs the year has turned with Spring just beyond the horizon.
Cormorants and Ravens will be nest building, a burst of song from a Cetti's warbler can brighten a sunny day at Longis or Mannez. Late in the month a build up of Gannet numbers around the island as birds begin to gather around Ortac and Les Etacs, there is a lot of anticipation around when they might first touch down on the colonies.
Brisk walks along the south cliffs can be spent searching the sea for dolphins, divers, grebes and auks. If they're in, chilling out after their jaunts at sea, watching the Fulmars play on the uprafts at the guns.
Blackthorn, in flower from late January often through to early spring, forming white "clouds" along valley sides and cliff paths and providing a welcome early source of nectar for many insects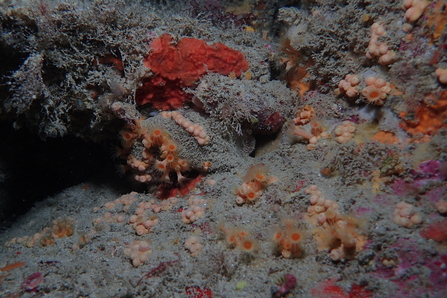 February
Seabirds are making landfall and returning to their breeding sites. gatherings of Razorbills around the Twin sisters, Guillemots at Coque Lihou and Les Etacs and, of course, the Gannets... If you catch the day they chose to make landfall you'll see some spectacular communal overflights as thousands of birds swoop and circle the rocks. A brief celebration en-masse before they all settle down on their former nest sites and begin the new season. Song thrushes start singing in the mornings.
It's a good time to dive in search of benthic invertebrates (tall or short animal turf) before the kelp and other seaweeds overgrow and obscure the rocky seabed.
Learn more about Winter wildlife
Join Us
We couldn't work to protect and conserve wildlife in Alderney without your help. Please support us by becoming a member.