Wildlife to look for in Summer
A busy season with wildlife feeding, breeding and preparing for the colder months. Don't forget to submit your summer wildlife sightings so we can add them to the Alderney Biological Records Centre.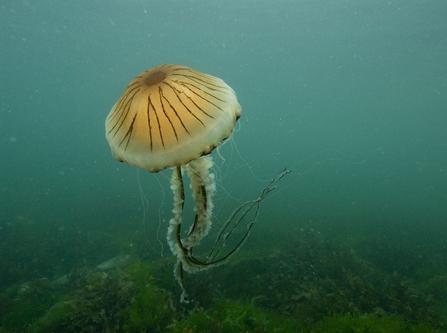 June
June marks the start of a busy butterfly season! Look out for our very smart, and iconic, Glanville Fritillary throughout summer as they occasionally have two broods. 
The last of the spring migrants coming through at the start of the month - usually a few Sanderlings, first of the autumn/post-breeding migration at the end of the month - first returning Curlews and Black-headed Gulls (these are usually failed breeders). Gannets with young and the earliest hatched are now large enough to see with binoculars at their parent's feet. Puffins also feeding their young. Guillemots and Razorbills fledge their chicks later in the month, a dramatic spectacle as the young Guillemots take a leap of faith from the cliffs down to their waiting parents.
Life underwater proliferates, such as sea squirts, bryozoans and hydroids on the rocks and jellyfish in the plankton. The variety of jellyfish is notable, including Compass, Barrel, Lion's mane, Moon and Blue FIire jellyfish.
Moth traps see hawk-moths en-masse with hummingbird, small elephant and poplar hawks all in large numbers. 
Bee and pyramidal orchids start to appear on verges and in grassland. And make sure to take a deep breath as you walk over the carpets of wild thyme on the reserves.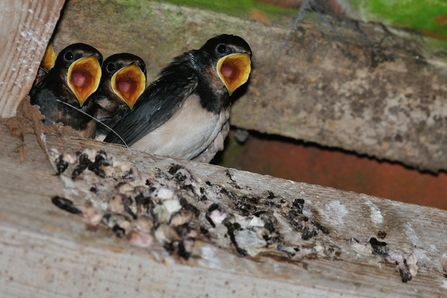 July
The Gannet colony is bursting with life. Chicks of various sizes, late nesters still on eggs. Imposing, noisy, smelly - spectacular. The last Guillemots and Razorbills depart, gull chicks fledge and Ringed plovers struggle on, beleaguered by disturbance and bad luck. By the end of the month the Swallows begin laying their second broods. Puffins depart at the very end of the month. Ravens are fledging their young, look for them playing in the winds. Swifts will be starting their return migration southwards to Africa. 
At sea, inshore waters full of life - mackerel and sea bass and notably sand eels. Terns busy foraging the near shore to catch them and feed to their chicks. Sometimes gannets plunge dive close to shore too. Occasional feeding frenzies occur - with large numbers of gannets plunge diving en-masse - sometimes associated with dolphins and/or tuna. Worth looking out for in Clonque Bay or offshore between the lighthouse and Fort Houmet Herbe.
Crickets and grasshoppers among the grass mean every footstep causes a cloud of movement.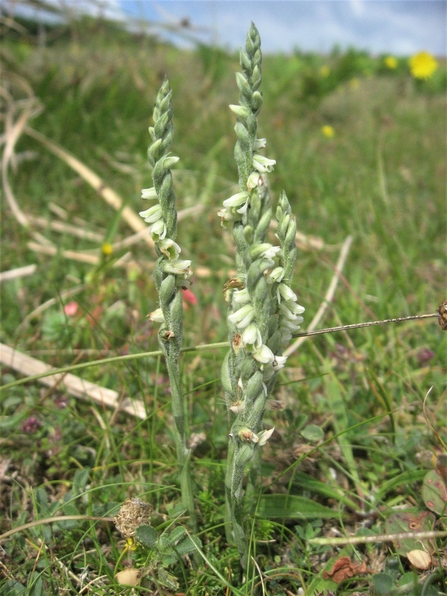 August
Autumn migration has already begun in earnest! Early on look for willow warbler, whitethroat, spotted and pied flycatchers. Also redstart, tree pipit and wryneck. Buzzards (Common and Honey overhead) - check for them late morning and early afternoon when they exploit the thermals to help them make the sea crossing to France.
On the beaches there's the possibility of Whimbrel, Curlew, Godwits, Dunlin, Sanderling, Common sandpiper and Curlew sandpiper, Turnstone. Additional Ringed plover, Oystercatcher and gulls (notably Mediterranean gulls) also stop off. Local Ringed plovers give up the ghost and stop attempting to nest. Common terns also depart. The first Gannet chicks fledge and the colony now looks polka-dotted with the black feathered chicks standing out in their juvenile plumage among the swathe of white adults. Young shags form gangs on the rocks to dry out between fishing trips.  
Underwater the Kelp is at its most lush and forms a jungle/forest over the inshore rocky reefs. Mostly Furbelows and Golden kelp, it and the eelgrass beds harbour numerous shoals of fish and a protective nursery for many species.
Autumn Lady's-tresses orchids, our smallest orchid, flower. Its delicate white spirals often found abundantly in short coastal grassland from this month onwards.
Learn more about Summer wildlife
Join Us
We couldn't work to protect and conserve wildlife in Alderney without your help. Please support us by becoming a member.