Adopt a Hedgehog
Alderney's hedgehogs are a mix of blonde and brown, unlike almost anywhere else in the world. 
Hedgehogs are well-known garden wildlife but they are declining in both towns and cities in the UK. They are not native to our island but their interactions with our native wildlife remains unclear. In Alderney hedgehog populations seem to be stable but we want to do more research into where they go and what they feed on. 
By adopting an Alderney hedgehog you will be helping the AWT carry out this research and learn more about Alderney's hedgehogs and their impact, contributing to conservation of the island's wildlife.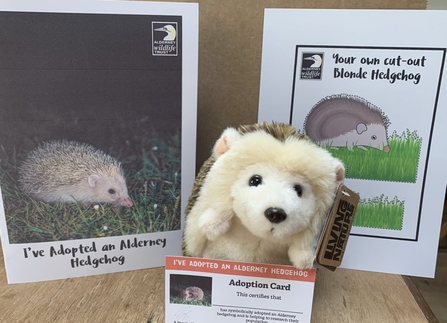 What's in the pack?
CURRENTLY OUT OF STOCK; Adopt a Hedgehog Package £24 (includes UK postage) you will receIve:
an adoption card and a fun facts greeting card
a cuddly hedgehog 
a cut-out hedgehog for your desk